As hosted by Miz B at Should Be Reading…
Not too bad a week in terms of books in (plus I am allowed to stock up on titles for The Double Dog Dare challenge…)
This week from NetGalley I got The Girl On The Pier by Paul Tomkins, which I thought sounded intriguing:
BLURB: Abandoned time and again by those he holds dear, Patrick Clement is forging a reputation as a forensic sculptor, helping to identify the unclaimed missing. But he can't leave behind a remarkable summer night in 1993, spent alone on Brighton's derelict West Pier with Black, a beautiful photography student. Patrick is haunted by the fact that no sooner did he get to know her than she disappeared from his life…
Who is this girl? And where is Black, the one who got away? 
Decades on, while at work, Patrick is tasked with reconstructing the skull of an unidentified girl found on the pier in the 1970s – the pier he still thinks about. A crime he recalls from childhood, when his family life was in turmoil, Patrick works to discover the truth behind what has happened. 
Set in Brighton, The Girl on the Pier spans several decades, from the seventies to the present day. Inspired by literary novelists such as Ian McEwan, Anne Tyler and John Updike, Paul uses vivid images to make the reader feel as though they are right there in the story. The Girl on the Pier will appeal to lovers of psychological thrillers and suspense novels. 
I also couldn't resist Ann Cleeves' Dead Water, the fifth in the Shetland series, as it was a 99p Kindle Daily Deal.
BLURB: Ann Cleeves returns to her critically acclaimed Shetland Island series with this stunning mystery featuring Inspector Jimmy Perez, who readers will remember from Raven Black, White Nights, Red Bones, and Blue Lightning. When the body of a journalist is found, Detective Inspector Willow Reeves is drafted from outside to head up the investigation. Inspector Jimmy Perez has been out of the loop, but his local knowledge is needed in this case, and he decides to help Willow. The dead journalist had left the islands years before to pursue his writing career. In his wake, he left a scandal involving a young girl. When Willow and Jimmy dig deeper, they realize that the journalist was chasing a story that many Shetlanders didn't want to come to the surface. In Dead Water, a triumphant continuation to her Shetland series, Ann Cleeves cements her place as one of Britain's most successful crime writers. 
And then, of course, I saw Peter May's Entry Island at £1.99, which I've heard lots of good things about, and I'm hoping it'll convert me to become a true Peter May fan!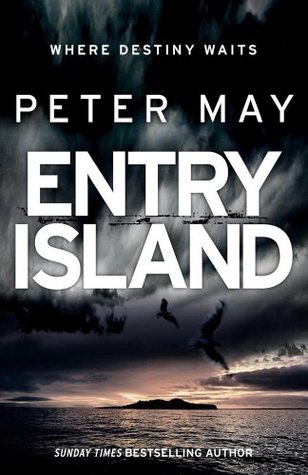 BLURB: When Detective Sime Mackenzie boards a light aircraft at Montreal's St. Hubert airfield, he does so without looking back. For Sime, the 850-mile journey ahead represents an opportunity to escape the bitter blend of loneliness and regret that has come to characterise his life in the city.
Travelling as part of an eight-officer investigation team, Sime's destination lies in the Gulf of St. Lawrence. Only two kilometres wide and three long, Entry Island is home to a population of around 130 inhabitants – the wealthiest of which has just been discovered murdered in his home.
The investigation itself appears little more than a formality. The evidence points to a crime of passion: the victim's wife the vengeful culprit. But for Sime the investigation is turned on its head when he comes face to face with the prime suspect, and is convinced that he knows her – even though they have never met.
Haunted by this certainty his insomnia becomes punctuated by dreams of a distant past on a Scottish island 3,000 miles away. Dreams in which the widow plays a leading role. Sime's conviction becomes an obsession. And in spite of mounting evidence of her guilt he finds himself convinced of her innocence, leading to a conflict between the professonal duty he must fulfil, and the personal destiny that awaits him.
Quite ridiculously, I'd forgotten until I'd almost finished this post that I'd seen this book in Waterstones today and bought it on a whim…It's not my usual cuppa, but I thought, what the hell, buy something different for a change!
BLURB: Motherless Alathea Sawneyford, her charms grown disturbing as she rebels against her father, has made the city's streets her own, while Annie Cantabile is constrained, by her own disfigurement and her father, to his pianoforte workshop under the shadow of Tyburn gibbet. One afternoon the dusty workshop receives a visitor. A man, representing an unscrupulous band of City speculators, Alathea's father among them, require a pianoforte and its charming teacher to find titled husbands for all their daughters: sisters Evelina and Marianne; stolid Harriet and pale, pining Georgiana. It seems an innocent enough plan but these are subversive times and perhaps even a drawing-room piano lesson isn't exactly what it seems. All of which will suit Alathea perfectly. Fierce and bawdy, uproarious and exquisite, Sedition takes its plot at a racing gallop: bold, beautiful and captivating .
I was delighted to receive an early copy from Rebecca Bradley (of the wonderful blog Rebecca Bradley Crime) of her debut novel, Shallow Waters, which will soon be available as an e-book. It kept me up until stupid o'clock, when my Kindle Fire finally died on me..
BLURB: When the naked, battered body of an unidentified teenager is found dumped in an alleyway, post-mortem finds evidence of a harrowing series of events.
Another teenage death with the same MO pushes DI Hannah Robbins and her team on the Nottingham City division Major Crimes Unit, to their limits, and across county borders. In a race against the clock they attempt to unpick a thick web of lies and deceit to uncover the truth behind the deaths.
But it doesn't stop there. When catching a killer isn't enough, just how far are the team willing to push themselves to save the next girl?
And finally…
This week I (quite amazingly!) have a "Friday Loss" to report, if such a thing is allowed to exist. My daughter ended up staying two extra days with us as the ferry to my parents', where she had been heading for a few days, was cancelled due to the weather. When she was younger, she was an avid reader, particularly of Jacqueline Wilson, but at 19 now, as a typical teenager, seems more interested in her iPhone and social media. But I gave her this book last night, and she read quite a chunk of it. So I was delighted when she asked if she could take it with her to finish. I haven't read it yet, but I've read some great reviews. Hopefully it'll remind her how enjoyable reading is.
So how's your list of Friday Finds? Have you managed to control yourself and stuck to buying books only for others? Or did you manage to grab a few? Remember, they don't have to be bought; borrowed and library books count too! Leave a link to your Friday Finds, or if you're not a blogger, just list them below. And let me know what you think of my picks…Will I hate Sedition? Should I replace Dare Me – do you think it's really good? Leave any manner of book opinions, thoughts or gossip below…